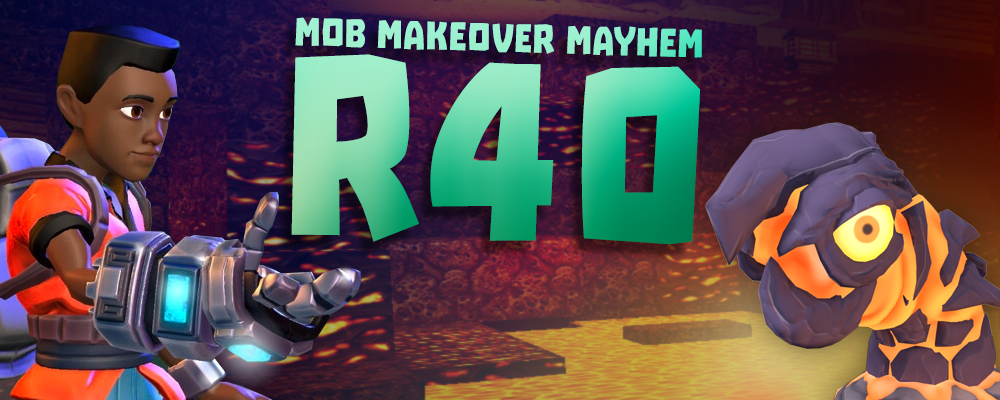 Greetings, Creators!
For our fortieth release, we loaded the creatures of Creativerse up in a huge van (there were… smells) and treated them to a day at the Mob Groomer for makeovers! Now they're sporting shinier coats (improved lighting and visuals), a few new tricks (additional animations and polish), plus Warmworm convinced us to splurge on an extreme makeover you'll have to see to believe.
These changes are part of a broader effort to level up the existing game experience with a focus on bugfixes, performance, polish, and quality of life improvements (including a few excellent community requests).
You'll want to experience these changes for yourself – and when you make it down to the lava layer, be sure to tell Warmworm how much you LOVE its « hot » new style!
New Features and Content
Adventure picture frames

Two new craftable picture frames
Display screenshots of completed adventures in your worlds

Adventure loadscreens now include adventure picture and description
Significant overhaul of Warmworm art
Improved visuals, lighting, and animations of many other creatures
Plow tool now transforms more blocks

Ashenwood
Elderwood Leaves
Snow
Cragwood
Autumnwood Leaves
Weepwood
Sand
Tall grass can no longer be plowed
Improvements
Engine upgrade – performance improvements, other related bugfixes
Adventures with no screenshot or description will no longer be surfaced on the New and Popular pages
Claim borders for adjacent claims belonging to the same player no longer display
Double-clicking on a player name in touchstone list will teleport to that touchstone
Map no longer available in adventures
Improved TNT and stun bomb art
Bugfixes
Fix for lighting flickering issues on certain video cards
Flashlight can no longer be turned on via the character screen UI element in adventures where the flashlight is disallowed
Fix for block phaser boundaries appearing sometimes when it should not
Resolution dropdown no longer resets when changing other visual options
Deprecated wood mining cell no longer appears in loot tables
Fixed minor UI visual glitch when shift-click crafting
Arc sign text limit of 10K characters imposed
Store now can be closed with ESC key on main menu
Various stability and crash fixes