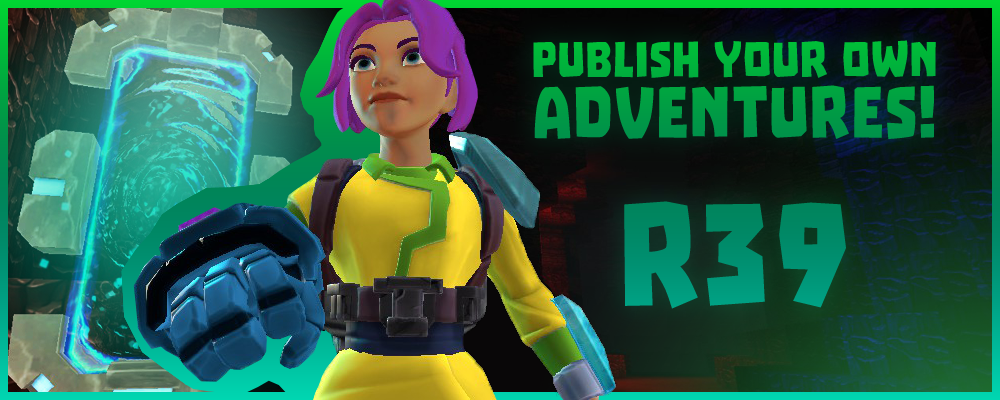 Adventures are here!
It's an undisputed fact that the Creativerse community creates incredible worlds and experiences. Seriously, we looked it up in a book of facts and it was right there, next to "pizza is tasty".
The adventure system, new in R39, gives players the power to share their amazing worlds with… the world! Maybe your adventure is a labyrinthine maze where digging and gliders are off-limits, or maybe it's a tour of epic constructions featuring checkpoints you've set up at notable sites throughout your world. When the only limit is your imagination, there are no limits!
Plus, you'll be adventuring in style with a major set of character improvements, including new heads, hairstyles, color options, and better character lighting.
The book of facts is never wrong. Fire up Creativerse R39 and start turning your world into your own adventure today!
While adventure publishing will be available immediately (craft an Adventure Gate to get started), the main menu Adventure browser will be ready in a day or so. Plenty of time to get version 1 of "Hardcore Corruption Death-Run" ready to unleash upon an unsuspecting community.
New Features and Content
New support for adventure publishing!

New craftable item: Gate – used for publishing an adventure
New craftable item: Checkpoint – used to add a checkpoint quest to an adventure
Playable adventures coming soon to the main menu!

Player visual overhaul

Improved models
Improved color palette selections
Hairstyle improvements and additions

One special new rare recipe drop
Improvements
General UI improvements and tweaks
Significant player character lighting improvements
Minor audio tweaks
Banning a player also removes their touchstone from the teleport list
Containers track a history of adds/removes
Prevent mobs from spawner from sleeping when using ForcedAggressive
Base power cell now pulls more things
Wood power cell removed from crafting tree
Charged wood power cell recipe no longer drops
Bugfixes
Fixed a bug that could cause toggleables to stop changing state(fans stuck on/off, etc)
Fixed fire enable world option
Fix for sensor sound always playing
Fix for claim text overlapping with "F to interact"
Fix for crash when placing a blueprint kit on a shelf
Minor fix for male character shoulder geometry
Fan sized down slightly so it does not go outside of a block