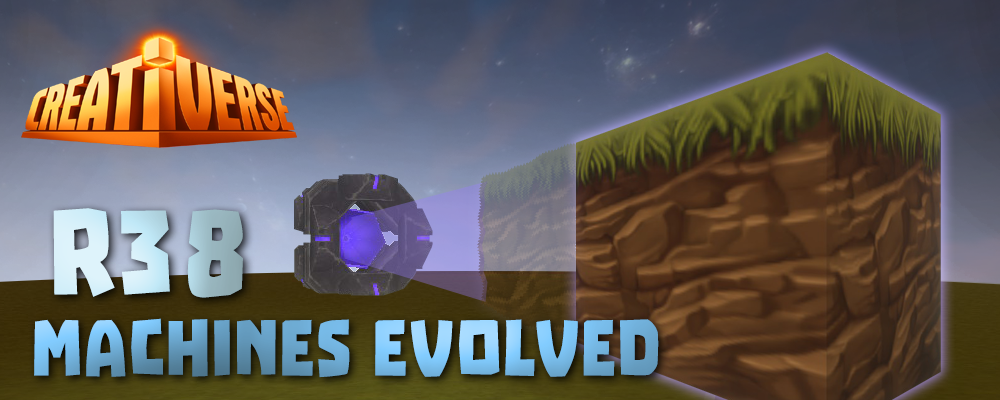 Greeting, Creatifriends!
R38 is a love letter to creators. The sort of love letter that won't fit in the mailbox 'cause it's strapped to a volatile machine capable of punching blocks through the walls of existence.
The Creativerse community has created countless spectacular builds — we're inspired daily by the massive cities and epic structures you share with us. The new machines we're introducing today give our players the ability to create something new: experiences. Whether it's a maze with shifting walls, a dungeon adventure with waves of enemy mobs and puzzles to solve, or a friendly game of Pigsy soccer (using Pigsy as the ball, naturally), we can't wait to see what you accomplish with these new tools.
New Features and Content
New machines!

Block Phaser – make a column of up to eight blocks vanish and reappear!
Mob Spawner – spawn any creature in the game (minus loot) and

Add loot to the first creature spawned!

Loot Spawner – spawn treasure chests with items of your choice
Sensor – trigger for when players enter a custom defined space
Arc Sign – project a text message at a size of your choice!

Special formatting tags:

{1}, {2}, {3}, {4} – subsitute input from a sensor or number pad
{PlayerName} – substitue the local player's name
[offset=x.xx/] – Pushes sign text up or down (can be negative)
[width=x.xx/] – Control the width of the text region

Creatures can now be pushed with the gauntlet
New audio, including new cave music & glider sound
Improvements
UI overhaul – all user interfaces now reworked to match main menu aesthetic
Glider no longer cancels if you touch something on the side or top
Fireworks can now be hooked to switches / pressure plates / sensors!
Changes to auto-population of machine trigger names to reduce cases of accidentally overwriting triggers
Fixed item pickup to fill quickslot, then inventory, then make stacks in the same order
Wiring tool inspection(default N key) can be brought up even if the wiring tool isn't selected(must still be equipped)
Flare can now be thrown further
Bugfixes
Fixed nonfunctional character swimming animations
Fix for gauntlet animation pop in some cases when UI screens are closed
Warmworms now spawn in correct locations
Fixed player map icon so it tracks moving player
Other
Holiday content (both ghost creatures and holiday presents) disabled
New "bonus coins" timed Pro upgrade offer for new players